Visiting Indonesia without Any Visa
The government of Indonesia has changed its visa policy for foreign tourists effective February 1st. 2004.Entering Indonesia without any visa is possible now only for nationals of the following 11 countries and territories: Brunei Darussalam, Chile, Hong Kong, Macau, Malaysia, Morocco, Peru, the Philippines, Singapore, Thailand and Vietnam.

Citizens of the above countries will be issued on arrival a stay permit for 30 days free of charge upon presentation of a passport which is valid at least for another 6 months. This stay permit cannot be extended or converted into another type of visa.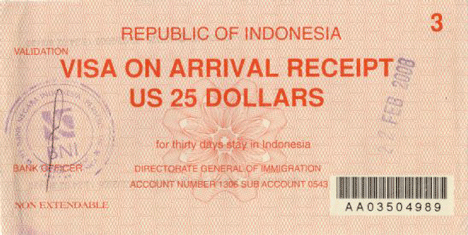 This facility is now available for nationals of the following countries: Algeria, Argentina, Australia, Austria, Bahrain, Belgium, Brazil, Bulgaria, Cambodia, Canada, Czech Republic, Denmark, Egypt, Estonia, Fiji, Finland, France, Germany, Greece, Holland, Hungary, Iceland, India, Iran, Ireland, Italy, Japan, Kuwait, Laos, Latvia, Libya, Lichtenstein, Lithuania, Luxembourg, Maldives, Malta, Mexico, Monaco, New Zealand, Norway, Oman, Panama, People's Republic of China, Poland, Portugal, Qatar, Romania, Russia, Saudi Arabia, Slovakia, Slovenia, South Africa, South Korea, Spain, Suriname, Switzerland, Sweden, Taiwan, Tunisia, United Arab Emirates, United Kingdom and the United States of America.